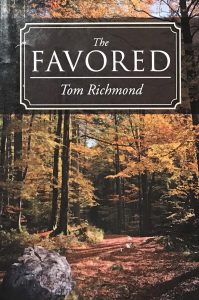 The Favored
Investigative reporter, Jason Banning, and his fiancé, Carrie James, receive an unwelcome reception when they first arrive in the small rural community of Hittleton.  They are there on assignment to get a story about the sons of the heartland, direct descendants of the original settlers.
They uncover a number of clues leading them to conclusive evidence of a very cold case triple murder.  Suspense builds when Carrie is wounded in a suspicious hunting accident.
Meanwhile the awkward riddles of Ellie, a backward daughter of a pillar of the community, are all Jason  has to go on until he discovers a mysterious meteorite on Vernon Hittle's property.  Therefore, Jason will stop at nothing until he reveals the ultimate secret of the seven patriarchs of Hittleton who are, it appears, miraculously fortunate in their ancestry.  This is a great historical fiction with suspense and a touch of the supernatural.
Buy it at: