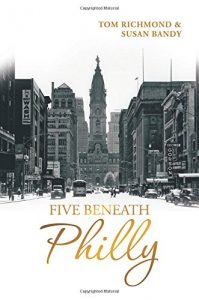 Five Beneath Philly
Allen Williams was already making something of his life.  He was preparing himself for a meaningful future by earning excellent grades in high school.  He qualified for a full ride scholarship enabling him to climb out of the squalor that was South Philly in the sixties.
Suddenly, tragedy struck in the form of a heart attack suffered by his dad.  Fate cruelly changed his whole world.  Being the oldest male in a family of six, his father's  death left him the awesome burden of providing for them, but he manages to overcome his fate by holding on tight to his dream.  The love of his life, two other real friends, and the confidence to redirect his dreams, bring him a great life he would not have dared to dream of on his own.
This book leads the reader through the coming of age of Allen, supported by his family and Amy, his high school sweetheart.  This is a take which will encourage readers to believe that once a while in life, people get a break and live happily ever after.
Reviews 4.5 out of 5
Buy it at: